How red meat increases cardiovascular disease risk | 紅肉如何增加心血管疾病風險
News Release
Cleveland Clinic researchers identify how red meat increases cardiovascular disease risk
Findings lay the groundwork for new targets to prevent, reduce risk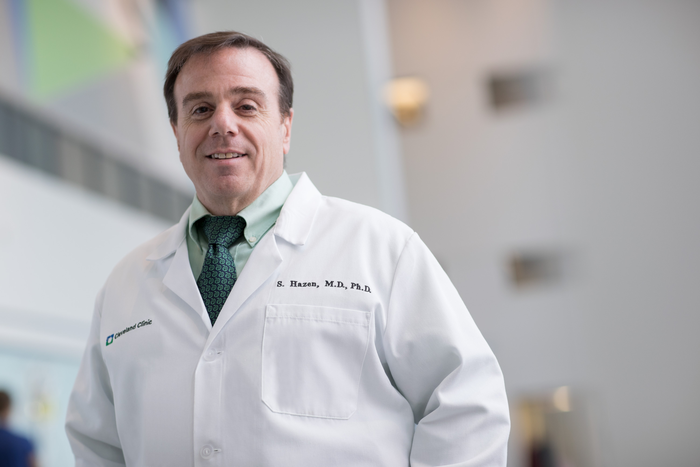 CLEVELAND – A Cleveland Clinic-led study has revealed new insights into how a diet rich in red meat increases risk for cardiovascular disease. The findings were published in Nature Microbiology and build on more than a decade of research by lead author Stanley Hazen, MD, PhD.
In a previous series of landmark studies, Dr. Hazen found that a byproduct that forms when gut bacteria digest certain nutrients abundant in red meat and other animal products—called TMAO (trimethylamine N-oxide)—increases the risk of heart disease and stroke.
The latest findings offer a more comprehensive understanding of the two-step process by which gut microbes convert the nutrient carnitine into TMAO, an atherosclerosis- and blood clot-promoting molecule, following the ingestion of a red meat-rich diet.
"These new studies identify the gut microbial gene cluster responsible for the second step of the process that links a red meat-rich diet to elevated cardiac disease risks," said Dr. Hazen, who directs the Cleveland Clinic Center for Microbiome & Human Health. "This discovery helps point us towards new therapeutic targets to prevent or reduce diet-associated cardiovascular disease risk."
In 2018, Dr. Hazen published results in the Journal of Clinical Investigation showing that dietary carnitine is converted into TMAO in the gut through a two-step, two microbe process. An intermediary metabolite in this process is a molecule called γBB (gamma-butyrobetaine).
According to Dr. Hazen, multiple gut microbes can convert dietary carnitine to γBB, but very few can transform the molecule to TMA, the precursor to TMAO. "In omnivores, Emergencia timonensis is the primary human gut microbe involved in the transformation of γBB to TMA/TMAO. Conversely, long-term vegetarians and vegans have very low levels of this microbe in their gut and therefore have minimal to no capacity to convert carnitine into TMAO."
The researchers studied the relationship between fasting plasma γBB levels and disease outcomes using samples and clinical data collected from nearly 3,000 patients. Higher γBB levels were associated with cardiovascular disease and major adverse events including death, non-fatal heart attack or stroke.
To understand the mechanistic link between γBB and the observed outcomes in patients, the researchers studied fecal samples collected from mice and patients, as well as preclinical models of arterial injury. They found that introducing E. timonensis completes the transformation of carnitine to TMAO, elevates TMAO levels and enhances blot clot potential.
The researchers used sequencing technology to identify the relevant gut microbial gene cluster. The cluster was named the gbu (gamma-butyrobetaine utilization) gene cluster, based on its newly discovered function, and includes six genes. They found that in the presence of γBB, the expression of all six genes in the gbu gene cluster increases and that four genes (gbuA, gbuB, gbuC and gbuE) are critical in the conversion of γBB to TMA/TMAO.
"By studying patient samples, we saw that the abundance of gbuA is significantly associated with a diet rich in red meat and plasma TMAO levels," said Dr. Hazen, who is also chair of the Department of Cardiovascular Disease & Metabolic Sciences and a practicing physician. "Patients who transitioned to a non-meat diet went on to exhibit reduced gut microbial levels of gbuA. Taken together, this suggests that dietary modifications may help reduce diet- and TMAO- associated cardiovascular disease risk. Likewise, the role of the gbu gene cluster may be worth exploring as a potential therapeutic target."
The studies were performed in part during a collaboration between Dr. Hazen's team and Procter & Gamble (P&G). Jennifer Buffa, MS; Kymberleigh Romano, PhD; and Matthew Copeland, PhD, are co-first authors on the study, which was supported in part by the National Heart, Lung & Blood Institute (part of the National Institutes of Health), the Leducq Foundation and P&G.
Dr. Hazen is named as co-inventor on pending and issued patents held by Cleveland Clinic relating to cardiovascular diagnostics and therapeutics and has the right to receive royalty payment for inventions or discoveries related to cardiovascular diagnostics or therapeutics. Dr. Hazen also reports having been paid as a consultant for P&G, and receiving research funds from P&G. Dr. Hazen holds the Jan Bleeksma Endowed Chair in Vascular Cell Biology & Atherosclerosis.
Journal
Nature Microbiology
Article Title
'The microbial gbu gene cluster links cardiovascular disease risk associated with red meat consumption to microbiota l-carnitine catabolism'
Article Publication Date
23-Dec-2021
$$$ If you are interested in a writer or editor position, check out here.
We are hiring.
$$$
No Responses